Title: Jade and the Tooth Fairy
Author: Jacinta Zechariah
Genre: Children's
Published:  April 9, 2013
Buy Links: Amazon.com | Amazon.co.uk | Smashwords | Kobo
Book description:
A magical tale about a little girl called Jade who stays up to meet the Tooth Fairy and goes to fairyland with her. She is also in for a pleasant surprise when she finds out what happens to all the teeth the Tooth Fairy takes!
Review:
Jade and the Tooth Fairy is about a little girl who had lost her tooth and wakes up when the Tooth Fairy visits to take her tooth. Jade goes of a wonderful adventure to find out what happens to the teeth once collected. The story is told in the form of a poem.
A brilliant book especially for little girls at an age when their teeth start falling out.
A beautiful book with gorgeous illustration.
Author  Bio
Jacinta Zechariah (nee Dias) lives in London, UK with her husband and 3 children – 2 daughters and a son. She loves travelling and being with her family.
She has a teaching degree with a Masters in Literature but now spends her time writing and marketing her book. When she is not busy with her children she is busy writing her future books and content for her blog.
She began writing at a very early age when she and her sister would make little paper books where she would write and her sister would illustrate.
She writes poetry and has had a few poems published in anthologies.
Jade and the Tooth Fairy is her debut book and has been written with her daughter Jadyn in mind.
She loves writing and would love to inspire more people to get involved in reading especially children.
Find her on:
Author central:  http://www.amazon.co.uk/-/e/B00CBCU4AQ
Website: http://jacintaz3.co.uk/jade-and-the-tooth-fairy/
Goodreads: https://www.goodreads.com/book/show/17789241-jade-and-the-tooth-fairy
Facebook:  https://www.facebook.com/JadeAndTheToothFairy?ref=hl
Twitter: http://www.twitter.com/jacintaz3
The Progeny (The Progeny Series #1)                                                            
"No fate other than the one I choose."
The timeless creed, and tattoo, bore by the Rousseaus— a vampire clan with the purest bloodline of any vampire family. Out of this clandestine group came one who was different, yet the same: Ascher-a half-bloodling— half- human, half vampire.
Ascher questions the purpose for his existence and which world he truly belongs to: the human world or the vampire world. Two months from sealing to Ursula— a prearranged union to a woman he abhors — he's at his wit's end. He knows if he calls off the sealing, the Romanian clan will strike with deadly force, but he cannot see eternity with a cold empty shell of a woman like Ursula.
Just when he thought life was complicated enough, he meets Shauna— a beautiful, bi-racial human Wiccan — and immediately develops an unshakable attraction to her. She makes him feel alive and vital despite his origins and Ascher makes a decision that turns his immortal world upside down.
Title: Just One Cup
Author: Cassandra Giovanni
Genre: New Adult
Publication Date: June 20, 2013
Getting pregnant as a teenager and being coerced into giving her baby up for adoption left a festering scar on Jaymee Ballard's life. Trapped by poverty and without many allies, Jaymee nearly gives up hope of getting her daughter back after her best friend is murdered. Now, four years later, a wealthy woman with legal connections hires her as a housekeeper, and Jaymee gathers the courage to seek her help. But Jaymee's last chance ends up in a puddle of blood in one of the historic antebellum mansions in Roselea, Mississippi.
I just murdered your wife…again.
An unsigned letter consisting of six horrifying words turns Nick Samuels stagnant life upside down. Stuck in emotional purgatory since his wife's unsolved murder four years ago, Nick is about to self-destruct. The arrival of the letter claiming credit for his wife's murder and boasting of a new kill sends Nick to Roselea, where he and Jaymee's worlds collide.
Jaymee and Nick realize exposing the truth about her daughter's adoption is the only way to solve the murders. Up against years of deception, they rush to identify the killer before the evidence–and Jaymee's daughter–are lost.
But the truth doesn't always set the guilt-ridden free. Sometimes, it destroys them.
About the author
Born in Indiana and raised in Iowa, Stacy Green earned degrees in journalism and sociology from Drake University. After a successful advertising career, Stacy became a proud stay-at-home mom to her miracle child. Now a full-time author, Stacy juggles her time between her demanding characters and supportive family. She loves reading, cooking, and the occasional gardening excursion. Stacy lives in Marion, Iowa with her husband Rob, their daughter Grace, and the family's three obnoxious but lovable canine children.
You can find her debut novel, INTO THE DARK as well as TIN GOD in both digital and print.
Website / Amazon Author Page / Facebook / Twitter / Literary Addicts
Purchase Stacy Green's other books Welcome to Las Vegas and Into the Dark
Follow the Tour



Stacy Green is giving away a swag pack for her tour. Open to US Addresses. 2 Winners Fill out the Form Below to Enter.
a Rafflecopter giveaway

Title: Epsilon A. R.
Author: Zackery Alexander Humphreys
Genre: Sci – Fi
Buy Links:
Book description:
Hundreds of years into the future mankind has gone under-ground to relocate to Epsilon; a beautiful city run by a strong, secretive government that keeps its citizens in check by subtle manipulation and strict schedules. No one questions the city's authority and no one is unhappy. ALN-896, an average man who is just trying to live a normal life, begins to have dreams; something strange and rare in Epsilon. In his dreams a man named Harry dies. ALN-896 shrugs this off as if nothing has happened. It was only a dream. The next day, however, he is suddenly arrested and sent to prison for killing Harry. Now inside prison, ALN-896 begins to learn about what the government of Epsilon has been doing and he plans on escaping. Not only from prison, but from Epsilon. This one decision turns him against everything he has ever known and forces him to face against centuries of lies. To escape means to live, but what will it cost?
Review:
Epsilon A. R. is a brilliant Sci-Fi book. I do not usually read sci-fi books as I think of the likes of Star Trek and things like that when I think of Sci-Fi and it puts me off. I am glad I read this though. The book focuses on ALN-896 a man that likes in the city of Epsilon.
He is regular guy, looks the same as every man in Epsilon. Everyone wakes, leaves the house and even sleeps at the same time. It is illegal to not take your sleep pill, have friends, have a girlfriend, even attempting suicide and anyone found to do anything illegal was put in prison. From 7th Grade a child has to live in the real world alone.
ALN-896 has a dream which is odd in itself as no man dreams in Epsilon, in this dream  his work partner dies and his name Harry another odd thing because each citizen in Epsilon has a 3 letter, 3 number name.
ALN-896 wakes and wonders why he is dreaming but thinks nothing of it as the day goes on until he is arrested and put in prison for killing Harry.
Prison it is like another life, everyone has real names rather than the 3 letter, 3 number names, ALN-896 is now called Alan, he made friends, can make friends, but also  prison has a lot of deaths usually by the prison guards but also through deadly games that the town of Epsilon watches.
Alan is innocent, he did not kill Harry…Or did he? Was he dreaming or was it a memory? Everything he believed in, Epsilon, the chief, EVERYTHING is lies.
I could not put this book down. It kept me gripped, every chapter was another day of Alan's life and it got better and better the further into the book I got. I really enjoyed Epsilon A. R.
There were some grammatical errors but that did not deter from the story.
Author Bio:
Zackery Humphreys is 21 years old and is currently attending the University of California, Santa Barbara studying Theater Acting. He has been writing for about seven years, mostly concentrating on poetry and novels. He has a love for books and for storytelling. Now, through his writing, he is hoping to bring those two worlds together.
Author Links:
Blog: http://www.zackeryhumphreys.blogspot.com
Facebook: (Author Page) http://www.facebook.com/pages/Zackery-Alexander-Humphreys/370275879738503
(Book Page): http://www.facebook.com/EpsilonAR
Twitter: https://twitter.com/Zhumphreys
Welcome to Cruising for Giveaways Hop! This hop is brought to you by Charisma Media!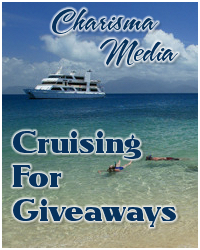 Title: Ghost Leopard: A Kids Magic Fantasy (book #1)
Author: Lars Guignard
Genre: Children/Middle Grade
Publisher: Fantastic Press (April 26, 2012)
Buy Link: http://www.amazon.com/Ghost-Leopard-Fantasy-Adventure-ebook/dp/B007XZ7UI0
Book Description:
Imagine you're totally lost in a strange city with no idea where you are and no way home.
Now imagine that elephants and snake charmers start telling you that you've been chosen to save the world.
Would you even believe them? What would you do?
Zoe Guire isn't sure. Having that elephant talk to her was really weird, and, as a rule, Zoe doesn't do weird. Except the thing is, when Zoe goes along on her mom's business trip to India, things get very weird, very quickly. Soon after she arrives, Zoe finds herself tagging alongside a kid named Zak, lost in a crazy city, with no money and no way home.
And those are the least of Zoe's troubles. Because if she's to believe the scary-looking snake charmer guy sitting in the corner, she and Zak have been chosen — chosen to protect some kind of mythical animal called the Ghost Leopard from who knows what.
Now, the further they get into the mountains, the more crazily impossible things get. Carpets fly and statues talk and if either Zoe or Zak want to make it back to their parents, or the sixth grade, or anything even close to normal, they're going to have to make some new friends, learn some new tricks, and listen, really listen to that talking elephant. Because if they don't, the world will never be the same again.
Join Zoe and Zak as they journey high into the Himalayas to a place few have been and even fewer have returned to tell about it.
Live life beyond the edge.
Review:
Ghost Leopard had me totally gripped, it was a great book for Middle Grade children and above. I thought it was great how the book added a lot of Indian culture and information in it without it getting boring.
Zoe and Zak were great characters, Zoe was very head strong, Zak on the other hand was carefree and seemed to head towards any bit of trouble not really caring that their may be consequences. Their adventure was brilliant although somewhat scary in places.
I hope their is a sequel as I would love to read another of Zoe and Zak's adventures.
Title: The Legend of Mickey Tussler
Author: Frank Nappi
Publisher: Sky Pony Press; 1 edition (March 21, 2012)
Buy Link: Amazon
Book Description:
In the late 1940s, the minor league Milwaukee Brewers are foundering yet again and manager Arthur Murphy is desperate. When he sees seventeen-year old Mickey Tussler throwing apples into a barrel, he knows he has found the next pitching phenom. But not everyone is so hopeful. Mickey's autism—a disorder still not truly understood even today—has alienated the boy from the world, and he is berated by other players and fans. Mickey faces immense trials in the harsh and competitive world of baseball while coping with the challenges inherent to his disorder. An honest and knowledgeable book about overcoming adversity, and the basis for the television movie A Mile in His Shoes, Mickey's powerful story shows that with support and determination anyone can be triumphant, even when the odds are stacked against him.
About the Author:
Frank Nappi has taught high school English and Creative Writing for over twenty years. His debut novel, Echoes From The Infantry, received national attention, including MWSA's silver medal for outstanding fiction. His follow-up novel, The Legend of Mickey Tussler, garnered rave reviews as well, including a movie adaptation of the touching story "A Mile in His Shoes" starring Dean Cain and Luke Schroder. Frank continues to produce quality work, including Sophomore Campaign, the intriguing sequel to the much heralded original story and the just released thriller, NOBODY HAS TO KNOW, which received an endorsement from #1 New York Times bestselling author Nelson DeMille. Frank is presently at work on a third installment of his Mickey Tussler series and his next thriller. He lives on Long Island with his wife Julia and their two sons, Nicholas and Anthony.
Excerpt:
In the cool blue twilight, with the distant lamps of the tiny town glowing like the tattered ends of lit cigars, Mickey sat down on Arthur Murphy's front porch—squeezed himself into a rickety, white rocker that protested loudly under the burly boy's weight—and fumbled nervously through the team's media guide. Murph lived just a few miles from the ballpark, a twenty-minute scamper down the narrow dirt road all the locals referred to affectionately as Diamond Drive. His place was small, a modest gray dwelling that looked as though it had been dropped indiscriminately in the middle of a pale grass field flanked by clusters of big dead trees and restless tumbleweeds. The windows, clouded casements that winced uncomfortably at the barren acreage just outside, allowed only glints of light to pass through, obscurely illuminating the austere furnishings inside. It wasn't much to speak of, but it was home and would now provide Mickey with a haven from which Murph could watch him for as long as he was with the team.
"Your picture will be on one of those pages next year," Murph said with alacrity, dragging a bench alongside the rocker. "How does that grab you, Mickey?"
The boy nodded absently, his eyes affixed to the publication.
"You know, Mick, I was planning on using you in tomorrow's game—if the time is right. You've practiced enough. Now I kind of want you to get your feet wet. Sound okay to you?"
The boy nodded again, continuing to nourish a daydream of limitless expansion seemingly tied to the pictures before him. Murph smiled at Mickey's innocence.
"Mickey," Murph repeated louder. "Do you want to play baseball tomorrow? In the game?" Mickey lifted his head. "Yeah. Baseball." Mickey's eyes darted wildly from side to side, like two marbles rattling around inside a glass jar. "Got any pigs here?"
"How's that?"
"Have you got any pigs? Mickey loves pigs. Got me my own back home. Name's Oscar. Oscar's my pig." Mickey jerked his head irregularly and looked all about out of haggard and homesick eyes. He blinked erratically, with great purpose, as if the fluttering of his lids would somehow clear the lenses and bring into focus the orphic surroundings.
"I tell you what, Mick," Murph said, ever mindful of the boy's emotional state. "I don't have any pigs. But if you throw for me a little tomorrow, I can sure as heck try to get my hands on one."
Mickey looked down glumly at his feet and nodded. Without a word, Murph dragged the bench even closer to Mickey, engendering a quick look from the pensive boy.
"That's a pretty serious scar you got there, Mick." Murph traced with a steady eye the jagged line of raised skin on Mickey's forehead. "How'd it happen?"
Mickey sat quietly, staring blankly ahead into the approaching darkness, while unwittingly running his thick finger over the damaged area and scowling, as if the mention of the injury had brought to his idle mind a flood of memory.
Mickey spoke slowly but did not say much of anything, selecting his words carefully as if he were feeling for stones to step on to cross a rushing stream. He could still hear Clarence roaring and was unable to articulate the terror that had seized him now, all over again.
Trailer:

Title: Belong To You ( A Cole Novel, Book 1)
Author: Vi Keeland
Genre: Romance-Erotica
Publish Date: April 4, 2013
Buy Links: Amazon Paperback | Kindle | B&N | Kobo | Smashwords also available from iBooks and Sony priced $3.99
Author Links:
http://www.facebook.com/vi.keeland
http://www.facebook.com/pages/Belong-To-You/419829598111543
Twitter – @vikeeland
Book Description:
My honeymoon was almost everything I dreamed it would be, a tropical paradise, turquoise water, romantic walks on the beach, and loads and loads of mind shattering sex. The only thing missing was the groom. After seven years of coasting through a relationship with Michael, my senses were numb. A week of passion with a stranger was just what I needed to clear my head and take back control of my life. But how do you move on when the man that was only supposed to be a fling somehow seeps into your soul and steals your heart?
Review:
A fling on your honeymoon may seem something you wouldn't do but what if your honeymoon was now just a vacation as the person you were marrying went off with his secretary? Sydney wanted to forget Michael and the best way according to her friend Sienna was to have meaningless sex.
Great but what if you start falling in love with your fling?
Fantastic!
Sex, more sex, passion, trust and finally love. I was hooked!
Title: Chief Complaint Brain Tumor
Author: John Kerastas
Genre: Non Fiction
Buy Link: Amazon
Book Description:
At 57 years old, I thought I was the poster child for fifty-year old healthiness: I competed in triathlons, rode in 100 mile biking events and ate a healthy diet chock full of organic vegetables. Then I discovered that I had a brain tumor the size of my wife's fist.
My memoir chronicles the first year I spent addressing tumor-related health issues: preparing for my first operation, discovering a dangerous skull infection, having the infected portion of my skull surgically removed, learning about my substantial vision and cognitive losses, undergoing rehab and radiation treatments, and learning to live with my "new normal." And, as best I can tell, the phrase "new normal" is the medical community's code words for "You're alive, so quit bitchin'."
As my health changed, so did my sense of humor. My humor started out superficially light-hearted prior to the first operation; transmogrified into gallows humor after several subsequent operations; and leveled out as somewhat wry-ish after radiation and rehab.
Topics I write about in the book include:
How not to tell everybody you have a brain tumor
Why it's a lot of work to die in this country
Why I had difficulties in naming my tumor
How I negotiated bathroom visits with "Nurse Don't-Bother-Me"
Why I could prove that I was the "dumbest guy in the room"
Why someone compared the back of my head to a diseased goat
How I flunked a job interview with myself
This is a book for anybody interested in memoirs about people dealing with personal crises, for patients trudging through rehab, for caretakers helping victims of serious illnesses, or for anybody looking for an unexpected chuckle from an unlikely subject.
Review:
What an amazing and inspirational man! Chief Complaint Brain Tumor was an intense read and if you think you are having a bad day or week just read this and you will think yourself lucky!
Chief Complaint Brain Tumor tells the real life story of John Kerastas he begins with the symptoms he was suffering, going to the doctors and being diagnosed with a brain tumor and carries on writing about his experience from then on through having surgery, recovery, his thoughts, and his feelings of inability. The great thing is John has a fantastic personality although he may be blunt about some things like telling some people that he had a brain tumor. He went through the mill as it were with this tumor and I felt like I was living through the experience too.
Thank you for sharing your story with us.
About The Author:
I've worked at a global advertising agency, at several technology start-up companies and as a free-lance writer. Currently I spend most of my time blogging, speaking and writing about brain health, brain tumors and rehab. I speak to hospital rehab groups, stroke and aphasia groups, and last summer spoke at the American Brain Tumor Association's annual "Patient and Caregiver" conference.
My charity and non-profit efforts includes work through the Taproot Foundation on behalf of Apna Ghar (a Chicago-based non-profit providing domestic violence services to immigrant communities). I also go on Appalachia Service project trips through my church, participate in Early Response Teams that follow first responders into disaster areas, and teach and certify Early Response Teams through the United Methodist Committee on Relief (e.g.UMCOR).
Authors Links:
Website: http://www.chief-complaint.com
Facebook: http://www.facebook.com/ChiefComplaintBrainTumor
Goodreads:  http://www.goodreads.com/book/show/16249650-chief-complaint
Giveaway:
The author is giving away a $50 Amazon Gift Card.
Open to US & Can residents only
Fill out the form below to enter!